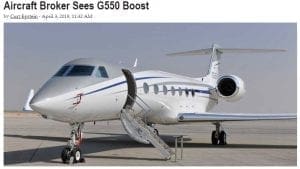 Aircraft brokerage Hagerty Jet Group has seen stronger-than-expected transaction volume for preowned Gulfstream jets in the first quarter of the year. The Savannah, Georgia-based Gulfstream specialist observed higher transaction volumes in the past quarter than in the previous 12 months, particularly for the airframer's G550. In the first quarter of the year, there were 16 sales of the long-range twinjet, nearly double the average of the past three years.
Hagerty also noted a spike in off-market aircraft transactions, as six of those 16 G550 sales were not publicly advertised, or were unknown by market participants. The company believes this is an indication that many buyers are frustrated by the lack of good available inventory and sought out direct purchasing opportunities with unlisted aircraft.
That could cause sellers on the market to adjust their pricing to move their aircraft. In its just-released Quarterly Market Update for Gulfstream aircraft, Hagerty expects prices to soften in the second quarter, based on the 14 price reductions seen in the first quarter on the G550, with an average decrease of 9 percent. It also anticipates a decrease in overall demand as global economic uncertainty lingers, led by fears of a 2020 recession, Brexit and U.S./China trade relations. As the impact of the so-called "Trump-Bump" from a year ago fades, Hagarty believes the industry is normalizing again.